Welcome to Airborne Outdoors
Airborne Outdoors Fishing Charters with Captain Chris Fanelli is a Veteran owned and operated saltwater fishing charter service based out of Florida.  Enjoy a custom guided fishing trip with family and friends in and around the waters of the Charlotte Harbor and Boca Grande.  Airborne Outdoors offers you superlative light tackle, heavy tackle and fly fishing trips inside of these beautiful estuaries.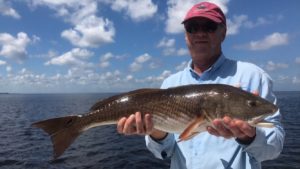 The Charlotte Harbor is a pristine estuary that is home to bountiful species of game fish.  These grass flats and back country are sought after by all anglers for its fishing year round.  Tarpon, Snook and Redfish are among the most commonly targeted species.  Other species caught include: Tripletail, Cobia, Trout, Black Drum, Flounder, Mackerel, Sheepshead, Sharks.  Charlotte Harbor boasts almost 300 square miles of mangrove lined shoreline with hundreds of islands, almost three hundred miles of man made canals, and thousands of acres of shallow grass flats.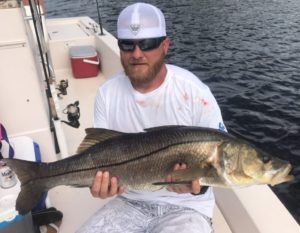 The world famous Boca Grande pass is most notable for it's world class Tarpon fishing.  Every spring, thousands of hungry Tarpon embark on their annual migration to make their yearly spawn.  The Charlotte Harbor is fed from the north by two rivers; the Peace River and the Myakka River.  All of this water leads out to the Gulf of Mexico through the Boca Grande Pass.  This geographical anomaly presents a perfect gathering spot for the massive schools of big Tarpon.  Boca Grande is labeled the "Tarpon Capital of the World".  Anglers from around the world come to this area to test their skills and patience against the silver king.  An amazing experience for any angler, beginner or advanced.  Given the challenge at hand, a professional guide is more than recommended for a successful day on these waters.  You can try your hand with the finest light tackle or fly fishing for the silver king.
Your fishing adventure can always be custom tailored to your fishing needs by the Captain.  Airborne Outdoors can host any number of anglers in your party with the help of other boats and other local full time guides in the area.